Startup built by U of T alumnus develops 'Nespresso machine for protein production'
Now, a new venture called Liberum formed within the University of Toronto's Medicine by Design community wants to make manufacturing proteins nearly as simple as brewing a cup of coffee.
Manufactured proteins are used as therapeutics, industrial catalysts and biomedical research tools – just to name a few applications.
But making them is a time-consuming and complex process.
Now, a new venture called Liberum formed within the University of Toronto's Medicine by Design community wants to make manufacturing proteins nearly as simple as brewing a cup of coffee.
"Current methods of making and purifying biologically active proteins require at least a week of work in most instances," says Aidan Tinafar, co-founder and CEO of Liberum. "Our system is a desktop protein manufacturing platform that enables users to go from synthesized DNA to purified proteins within hours."
The technology would have many applications for regenerative medicine.
"Faster, cheaper and easier manufacturing of biomolecules could transform regenerative medicine," says Tinafar. "Examples include developing new-media formulations and helping regenerative medicine scientists design proteins that they can use in manufacturing stem cells at scale."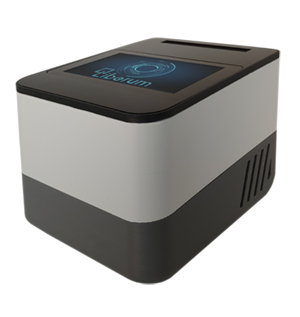 Liberum's prototype protein manufacturing unit is inspired by single-serve coffee makers.
Tinafar was trained as a graduate student in the lab of Keith Pardee, a Medicine by Design investigator and assistant professor at the Leslie Dan Faculty of Pharmacy. He is also a co-founder of the company.
"There is an increasing need for rapid prototyping of recombinant proteins in regenerative medicine research," Pardee says. "Liberum is pioneering an automated system that can be thought of as a 'Nespresso machine for protein production' that is going to provide on-demand and custom synthesis with the push of a button.
"I'm extremely excited about the potential for the device to accelerate research in the field."
The Liberum team recently went through the Creative Destruction Lab (CDL), a seed-stage program for massively scalable, science-based companies affiliated with Rotman School of Management that offers ventures the opportunity to connect with mentors, investors and venture funding opportunities. Medicine by Design is a partner of CDL.
On June 14, Liberum marked its completion of the program with a presentation at CDL's Super Session event, which brings together entrepreneurs, investors and scientists and high-potential start-up founders.
Tinafar says that going through the CDL program was an inspiring experience.
"CDL offers a great network of investors and advisers and, from our perspective as a participant, runs like a well-oiled machine taking young companies through key early milestones," Tinafar says. "We are time and time again astonished by the level of generosity offered by the high-calibre investors and advisers present at their sessions. We are really grateful to have been part of the program."
Before CDL, says Tinafar, there was Medicine by Design. He says he first heard of Medicine by Design during a talk at a stem cell conference. Then, in 2019, Tinafar and the Liberum team got involved with Medicine by Design's Pitching Science workshops, which teach trainees how to effectively communicate their scientific ideas and their research to diverse audiences including investors. They won first place in a pitch competition held at the end of the program.
Tinafar also participated in a mentorship session with Allison Brown, who is the director of strategy & translation at Medicine by Design.
"We are grateful for the mentorship Medicine by Design provided us in terms of setting the right priorities as founders," says Tinafar. "We also really appreciate Medicine by Design's support in showing us the best ways to communicate our mission to the world. It helped us get ready for more advanced programs like CDL and the IndieBio accelerator, another program we participated in."
Brown says the Liberum team's success is a result of their dedication to their venture.
"This is a team that's serious about taking their venture far. Their technology and concept are extremely well thought-out, and we know they will continue to be successful," says Brown. "We're proud to be part of the early journey of science-based ventures like Liberum. It's part of our commitment to ensuring Medicine by Design trainees have opportunities to develop the skills they need to translate their research into innovative products and companies."
The Liberum team also includes Alex Klenov, a molecular biologist who is chief technology officer for the company, and Chris Leichthammer, who is lead molecular biologist and lab manager.
In addition to being a co-founder, Pardee advises the Liberum team on strategic matters. He is also a leading expert on cell-free systems in synthetic biology, meaning systems that contain no living cells. Pardee recently received funding through Medicine by Design's Grand Questions Program.
The Liberum platform is a cell-free technology, and Tinafar says he has become passionate about this area since working as a graduate student in the Pardee lab.
"I joined the Pardee lab after working as a corporate lawyer and have been working in the field of cell-free biology ever since. I truly believe biology has the power to feed the hungry, heal the unhealthy and save the climate."