U of T Entrepreneurship Week 2023: Top 10 startups to watch
A plant-based alternative to conventional plastic. Using drones to tackle reforestation in wildfire-ravaged locations. And a new generation of self-driving technologies that leverage the full potential of artificial intelligence.
These are just some innovative ideas that have emerged from the University of Toronto's entrepreneurship community in recent years.
Ranked one of the top five university business incubators in the world, U of T Entrepreneurship is set to celebrate these and other startups, as well as their founders, during its annual U of T Entrepreneurship Week from March 6 to 9. The schedule includes pitch competitions, workshops, panel discussions and the popular True Blue Expo, which will feature the founders of more than 40 of U of T's top startups.
Another highlight: Raquel Urtasun, founder and CEO of Waabi and a U of T professor of computer science, will discuss lessons learned while building her self-driving vehicle company at the Desjardins Speakers Series on March 9.
Here are 10 exciting U of T startups to keep an eye on in 2023:
---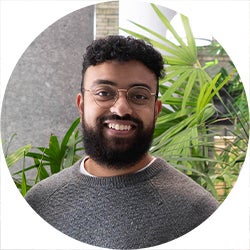 The ability to give patients agency over their own health monitoring was one of the reasons Surath Gomis co-founded Arma Biosciences. The startup's goal is to develop a new sensor technology for biomarker-informed digital health care. In partnership with Analog Devices, work on the company's first product is underway – a handheld finger-prick blood test for patients with heart failure.
With a PhD in electrical and computer engineering from U of T, Gomis established the company in 2020 with his supervisor Shana Kelley, a researcher in U of T's Leslie Dan Faculty of Pharmacy and Temerty Faculty of Medicine.
Gomis hopes future products will include wearable, implantable and ingestible sensors for monitoring applications.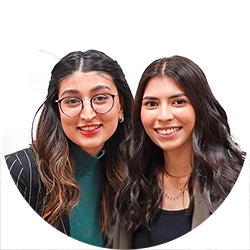 U of T alumnae Nuha Siddiqui and Kritika Tyagi are working to transform the plastic industry for the better. In 2018, the pair co-founded Erthos, a company that offers fully biodegradable plant-based material as a replacement for single-use plastics.
Erthos creates resins using materials that are both compostable and microplastic-free – and compatible with existing manufacturing technology. Siddiqui and Tyagi recently made the Forbes list of 30 under 30 in the social impact category, which noted that Erthos has raised more than US$5.5 million in funding.
Ali Zaheer and Zain Zaidi co-founded TransCrypts to transform digital privacy and security. Back in 2020, they set out to answer a simple question: "Why can't consumers own their important documentation digitally and in a way that can be easily verified?"
TransCrypts – which took home a $10,000 second-place startup prize at a U of T pitch competition during last year's Entrepreneurship Week – is a blockchain-based document verification platform that gives people direct access to their official documents, such as medical records. Supported by U of T Scarborough's The Hub, Zaheer and Zaidi have already helped thousands of Ukrainian refugees access medical records through a pilot project and landed US$2.4 million in funding from backers including Shark Tank investor Mark Cuban.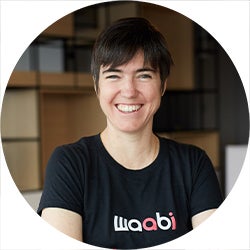 A world-leading expert in machine learning and computer vision, Raquel Urtasun was inspired to start Waabi when she recognized a need for a new generation of self-driving technologies that leverage AI's full potential. Backed by high-profile investors, including Volvo and Uber, the company is leading the way when it comes to the next generation of self-driving solutions.
The company recently launched Waabi World, an advanced simulator to test its autonomous vehicles, and Waabi Driver, its first generation of self-driving trucks. Urtasun says she focused on the long-haul trucking sector because it's one of the most dangerous occupations – not to mention an industry that suffers from a shortage of drivers.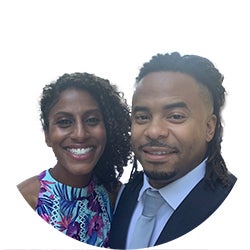 Husband-and-wife co-founders La Vance and Colleen Dotson – head coach of the U of T Track & Field Club – are the entrepreneurial force behind a slick dating app for people already in relationships.
WooYourBoo aims to help partners reconnect and better communicate with each other through quizzes, activities and rewards.
"Our goal is to create depth and help you reconnect with this person that you've committed to – and make it fun," Colleen recently told U of T News.
The Dotsons say that U of T's Black Founders Network was instrumental in building WooYourBoo, which was among the inaugural cohort of the BFN Accelerate Program.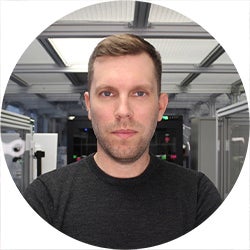 OTI Lumionics could change the look of the smartphone in your pocket.
Founded by U of T alumnus Michael Helander, the company has been working on expanding its line of organic LED technology solutions – including smartphone screens that are uninterrupted by notches, which are currently needed to house front-facing cameras and other equipment in some smartphone designs.
The company, which was spun out of research at U of T, has collaborated with Microsoft Quantum and, most recently, their name has been connected to Apple as a key supplier for a future notch-free iPhone.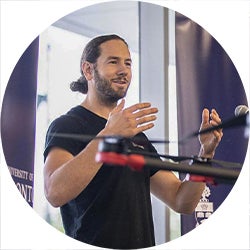 Flash Forest, a startup with ties to U of T Mississauga, is fighting climate change and restoring forests by leveraging the use of drones, AI, geographic information systems and plant science technology.
The company – which received support from U of T's Mississauga's ICUBE incubator – recently inked a federal contract to use drones to plant more than one million trees over the next two years in wildfire-ravaged locations across Canada.
The co-founders, brothers Bryce and Cameron Jones, say they are focused on restoring severe wildfire sites where the seed pods and cones are lost.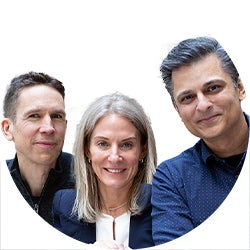 Signal 1 is looking to transform health care by equipping doctors and nurses with real-time AI predictions.
The company, co-founded by CEO Tomi Poutanen, a U of T alumnus, and Mara Lederman, professor of strategic management at the Rotman School of Management, has built a machine learning tool called CHARTWatch that can help predict how much support a patient will need.
The tool was originally developed at St. Michael's Hospital by a team led by Signal 1's clinical adviser Muhammad Mamdani, who is vice-president of data science and advanced analytics at Unity Health Toronto and holds cross-appointments at U of T's Leslie Dan Faculty of Pharmacy, Temerty Faculty of Medicine and Dalla Lana School of Public Health.
The surgical unit at St. Michael's Hospital has already begun using CHARTWatch to help care teams communicate and make decisions.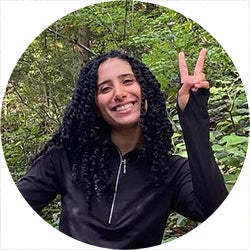 When U of T Scarborough alumna Iman Mounib encountered gut health issues, she took it upon herself to create products that are free of refined sugars, palm oils, gluten and dairy.
She founded Mounib Real Food Only, which sells a chocolate hazelnut spread made of just three local ingredients. The company also makes a peanut chocolate spread, as well as an almond chocolate version. Mounib's goal was to create alternatives to popular products that are both tasty and good for you.
The products are sold in almost 20 restaurants, cafes and stores in the Greater Toronto Area, as well as one location in Ottawa.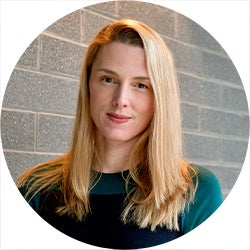 HippoCamera is a smartphone application that helps to improve memory recall, which could be beneficial for individuals in the early stages of Alzheimer's disease or other forms of memory impairment.
Backed by years of research at U of T, the app has an easy-to-use interface and is a personalized way to boost recall of daily experiences and enhance activity in the hippocampus, a part of the brain that plays a key role in memory.
Morgan Barense, a professor in the department of psychology in the Faculty of Arts & Science and co-author of a recent study on the technology, said her team found that memories that were associated with the HippoCamera were long-lasting – and that the device worked for both healthy older adults and those starting to show cognitive decline.