Startup founders share journeys at Indo-Canadian Entrepreneurship Exchange event
When Manmeet Maggu's nephew Praneit was diagnosed with cerebral palsy, the then-engineering student set out to find a wearable robotics product that could help his nephew walk. After failing to find a solution on the market, he decided to build his own – and so Trexo Robotics was born.
"Watching Praneit walk is definitely the proudest moment in my life. It allowed us to realize – for him – experiences that would not have been possible otherwise," said Maggu. "Our goal with this technology is to give every child who wants to walk the opportunity to walk."
Maggu was one of four startup founders who discussed their entrepreneurial journeys at the ICEE Speaker Series last week. The event was organized by the Indo-Canadian Entrepreneurship Exchange (ICEE), a new program offered by U of T in partnership with the Indian Institute of Technology Bombay (IIT Bombay) and IIT Bombay's Society for Innovation and Entrepreneurship (SINE) incubator.
Moderated by Jon French, director of U of T Entrepreneurship, the discussion also featured Ankit Mehta, CEO of India-based drone manufacturer ideaForge; Vishakha Singh, vice-president of non-fungible token (NFT) marketplace WazirX; and Saket Modi, co-founder and CEO of Silicon Valley-based cybersecurity and data science startup Safe Security.
ICEE will create opportunities for students, entrepreneurs and faculty in Toronto and Mumbai – and generate high-impact research and innovation to address a range of challenges, French said. He added plans include "a two-week innovation bootcamp where entrepreneurs from both Toronto and Mumbai are able to immerse themselves, integrate and be a part of the local ecosystems in each of these two great cities."
Participants will be able to connect with "the investor community, the non-profit and foundations in each of these two communities – and also gain exposure to other startups, have working space and be able to experience what it's like in the two countries – and learn from each other as well," French said.
In his remarks, Maggu noted that U of T's entrepreneurship ecosystem played a key role in helping Trexo Robotics take its early steps.
After building and testing an early prototype of a robotic exoskeleton with Praneit, Maggu and friend Rahul Udasi co-founded Trexo Robotics in 2016 while Maggu was doing his MBA at the University of Toronto's Rotman School of Management and Udasi was completing his master's degree in engineering at the University of Toronto.
The company graduated from the Creative Destruction Lab accelerator at Rotman, and also received support from the Entrepreneurship Hatchery at the Faculty of Applied Science and Engineering, the Health Innovation Hub (H2i) at the Temerty Faculty of Medicine, and the Department of Computer Science Innovation Lab (DCSIL). Trexo Robotics then went through the accelerator programs of U.S.-based Techstars and Y Combinator.
Today, the company's exoskeletons are being used in homes and hospitals around the world.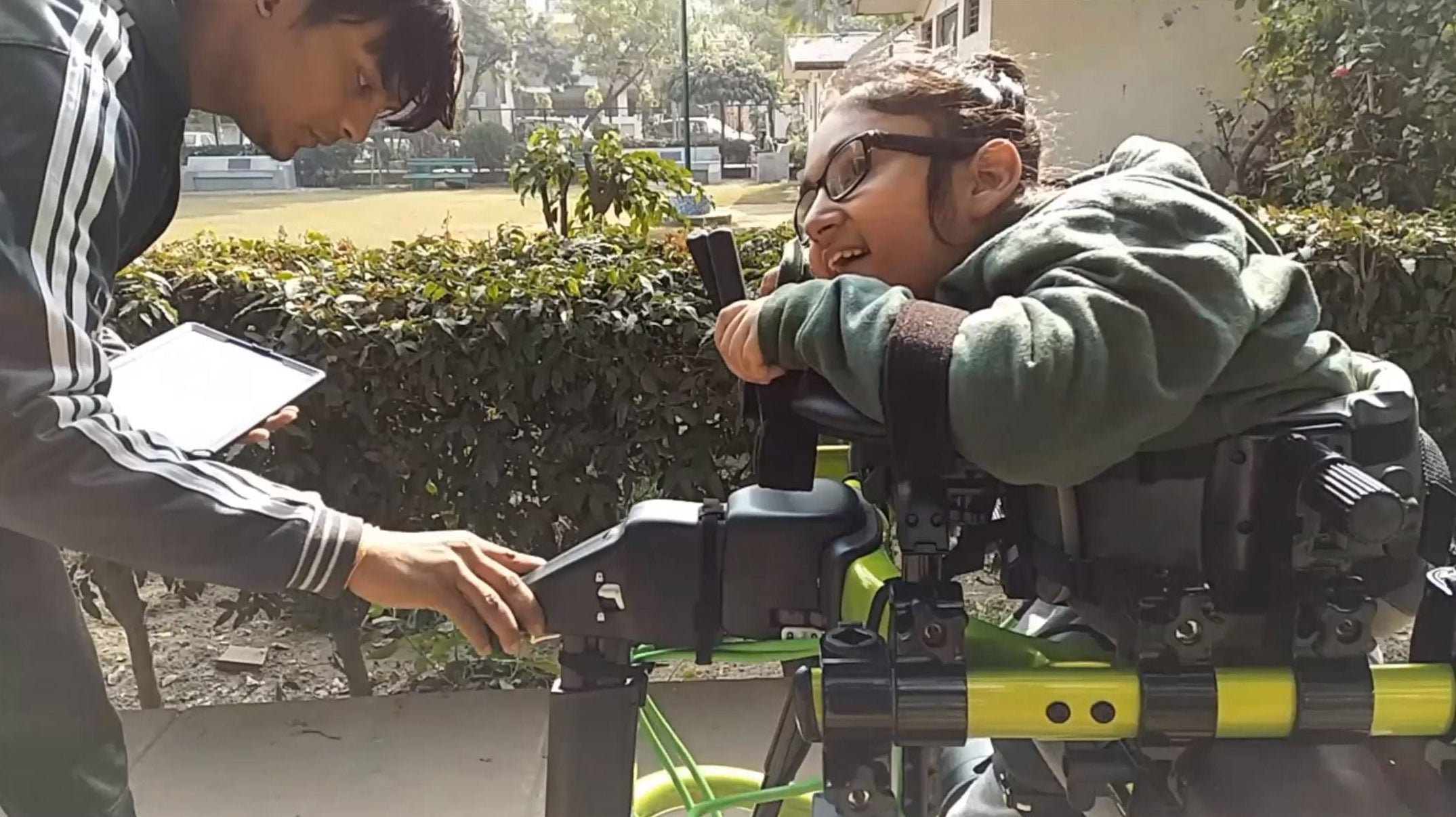 Manmeet Maggu's nephew Praneit played a key role in the development of Trexo Robotics by testing early prototypes of the company's child-sized robotic exoskeletons, which are now being used in homes and hospitals around the world.
Asked how startup founders should decide which accelerator programs to enrol in, Maggu said it's difficult to go wrong with U of T's programs.
"For programs that are part of a university – like CDL, the Hatchery, H2i and DCSIL – there's generally a lot of upside and very little downside to participating in these programs," Maggu said. "You're really opened up to an amazing network of not just other founders, but mentors and advisers, as well as future investors."
Among the questions Maggu said he had to confront early in Trexo Robotics's journey was how to balance having a social impact with running a scalable, revenue-generating business.
"I like to think of it as: what is the way that maximizes the impact of your idea?" said Maggu. "Could we open-source all of our code and designs and put it on the web? Will that maximize impact? We soon realized that's just not going to do anything at all.
"If you want to really maximize the reach of your product, you have to build a very successful business. You need to have IP; you need to be able to raise capital from the best venture capitalists in the world; you need to scale it up; you need to have really good margins – so that you can grow the business and expand its reach all over the world."
Mehta's company ideaForge was incubated in IIT Bombay's SINE program. He said his experience spearheading hardware projects on modest budgets while studying engineering set him up for a career in entrepreneurship.
"The first prototype that I built was from 1,500 rupees [around $25 CAD] that I borrowed from a project that my professor was running. From that point to then spending close to $10,000 of my institute's money on my ideas – I felt that I was really privileged," he said.
"I thought I should build on this privilege even though I knew that doing hardware in India was going to be extremely challenging. I felt that if not us – then who else?"
Today, ideaForge is India's largest manufacturer of drones for defence, homeland security and industrial applications. It's also the first home-grown company to develop Vertical Take-off and Landing (VTOL) drones in India.
Modi, whose cybersecurity firm Safe Security was also incubated in SINE, discussed how being backed by a world-renowned, higher education brand like IIT Bombay helped him secure the time and attention of potential clients and investors early in the company's development.
Today, Safe Security counts the likes of Google, Facebook, British Telecom, Munich Re and KFC among its clients.
"There is a transfer of trust as a new startup because nobody knows about your brand, nobody knows who you are, nobody knows about what you're trying to do," Modi said. "But the moment you say 'I'm incubated at IIT Bombay' – it just means you'll probably get that first meeting, which a lot of people are trying to get."
That's an advantage U of T entrepreneurs can relate to, French noted. "You still need to have the business and be able to walk the talk, but [you can] leverage the brand of our respective institutions."
For Singh, who acted in and produced several films in India, the move to entrepreneurship was a journey of self-discovery.
"Over the last few years, I've realized that I have a huge appetite for risk," said the vice-president of WazirX NFT Marketplace, a Bengaluru-based NFT platform for digital artists and creators.
Singh said entrepreneurship, much like show business, is about the hard work behind the scenes rather than the glamour on the surface.
"Being an entrepreneur is not about glamour, it's not about being 'cool'… it's a thankless job until you make it. And when you make it, people generally tend to forget about the hard work that you've put in."
As a young entrepreneur, Singh said she hopes to contribute to the evolution of startup workplace culture. "Earlier, startup culture was all about working 24-7, success at all costs, becoming a unicorn," she said. "The pandemic has proved that none of it matters if we're not healthy, if we're not taking care of our mental health and if we're not spending time with family.
"I think it's time for founders like us to change startup culture and focus on ensuring a healthy work-life balance not just for ourselves, but for our team members as well."