'Disruptive innovation': Student-run Black hackathon tackles algorithm bias, community-building
More than 200 participants from across Canada and the United States recently joined NSBEHacks, a 24-hour virtual hackathon that aimed to redesign digital technologies so they offer better service to marginalized communities.
Now in its fourth year, the 2022 event was organized by the University of Toronto chapter of the National Society of Black Engineers (NSBE U of T). NSBEHacks is the first Black student-run hackathon within the Greater Toronto Area.
"This year's theme was 'Disruptive Innovation,' and by the end of the weekend, we received an influx of solutions that we could have never envisioned," says Chetachi Ugwu-Ojobe, a third-year student in the Faculty of Applied Science & Engineering and president of NSBE U of T.
One problem that NSBEHacks teams tackled is algorithm bias, where errors or assumptions in a system's machine learning process can lead to prejudices and create unfair outcomes.
D'SpeakerVerse, the team that won first place in the hackathon's U of T Engineering Challenge, noticed that many voice assistant services alienate individuals by misunderstanding their accents. In response, they created an interactive platform where users can take part in voice games and tongue twisters to test the voice-to-text AI, with the goal of improving accent recognition for voice AI services through collected data.
"This team was able to create a disruptive innovation by building on something that already exists in the market and opening it up to people who are neglected by these services – people with non-Western accents who are often misunderstood and left frustrated by popular voice services," says Genevieve Aguigwo, a second-year student and vice-president of NSBE U of T.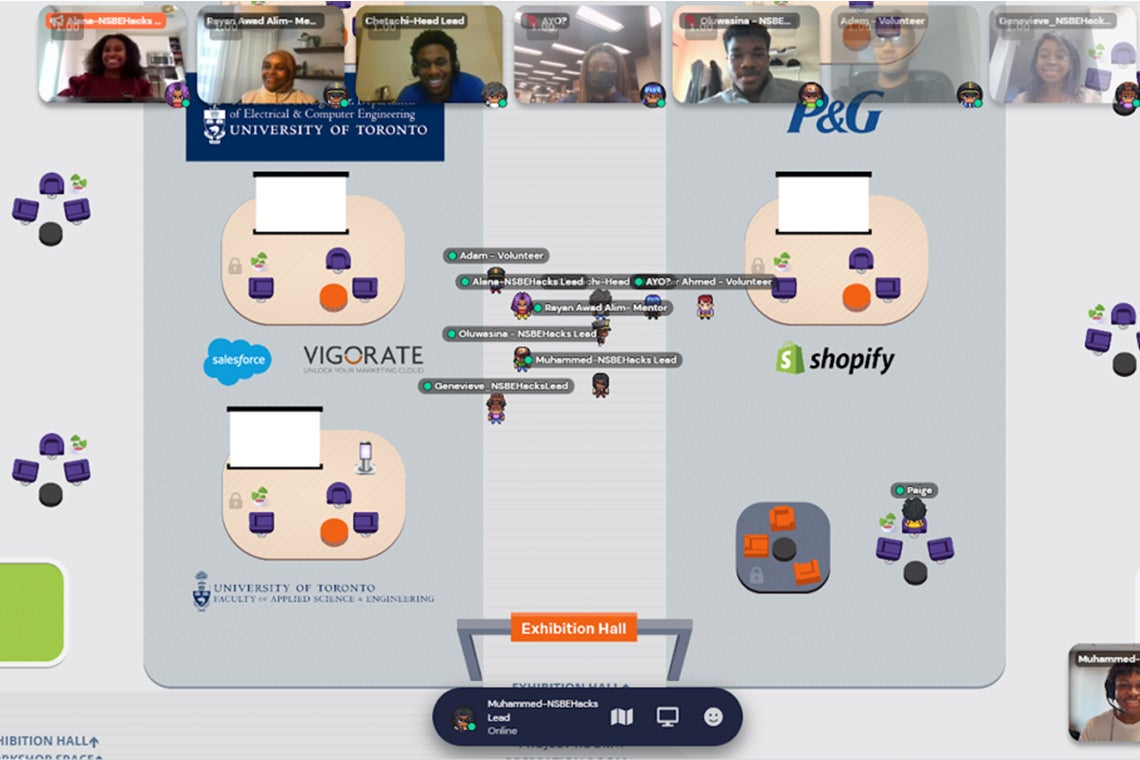 The 2022 NSBEHacks event was organized by the U of T chapter of the National Society of Black Engineers.
The event also sought to cater to the specific needs of Black audiences in fast-paced digital environments such as virtual reality.
The Barbershop team, which won second place in the event's Google Cloud Challenge, used virtual reality to create a welcoming online space that replicates the sense of community found in many Black-owned barbershops.
"Barbershops hold a historical significance to many Black communities. It's not just a place to get a haircut, it can also serve a therapeutic role," says Ugwu-Ojobe.
"The Barbershop team created a virtual space that allows people who are unable to visit a barbershop, because of the pandemic or personal challenges, to gather, share information and stay connected with their community."
NSBE U of T is committed to supporting participants beyond the hackathon as they take their designs to the next level.
"We are partnering with the Black Founders Network to give our design teams a platform to bring their ideas to life and make a business out of it," says Ugwu-Ojobe.
"Having a network of people in the industry who they can turn to with questions and reach out to in the future really ties in with NSBE's own goals to support the professional development of our community," adds Aguigwo.
"At the end of the day, we're trying to increase the representation of Black individuals in engineering and industry."