A cut above: U of T startup Fyyne makes hair services more accessible
Fyyne, a startup co-founded by two U of T alumni, seeks to eliminate the difficulty in finding suitable hair services and prioritizes Black-owned businesses (photo by WestEnd61via Getty Images)
Jeffrey Fasegha and Olugbenga Olubanjo once shared a similar time-consuming frustration: finding the right barber.
The two University of Toronto alumni recall separately asking their respective friends about their experiences finding adequate hair services.
They soon learned many faced the same difficulties and began thinking about ways to help.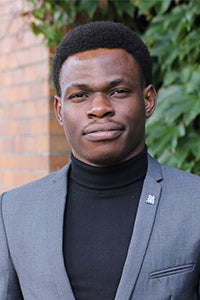 Jeffrey Fasegha and Olugbenga Olubanjo
"I think there is a gap between customers finding beauty artists and artists being able to communicate with new potential customers," says Fasegha, who graduated from the Faculty of Arts & Science in 2020 with a degree from Rotman Commerce.
After initially working on their own solutions, Fasegha and Olubanjo later decided to join forces to launch Fyyne, a startup that prioritizes Black-owned businesses and seeks to eliminate the difficulty in finding suitable hair services.
The mobile-first social marketplace for beauty services helps hair artists start and scale their business, connecting them with customers. From barbers, braiders or anyone offering beauty services, professionals can register to Fyyne's pro platform, which allows them to automate a booking process, track analytics like engagement with their profile, income and top services.
Meanwhile, customers can scroll through the app for the latest hair trends, find an artist who will best suit their needs and book an appointment in just a few clicks. They can also review an artist's verifications, write (and read) reviews, as well as filter searches by price, distance or rating.
"We want to sit in the middle and find artists for customers and customers for artists," says Fasegha, who was a member of University College.
Fyyne officially launched in Canada, the U.S. and U.K. in mid-February with more than 500 users registered so far. The startup is supported by an undisclosed amount of pre-seed funding from Canada's BKR Capital (formerly Black Innovation Capital), the first Canadian venture capital fund dedicated to supporting Black entrepreneurs in the technology industry.
Olubanjo, who graduated from U of T's Faculty of Applied Science & Engineering in 2020, notes that even in a large, diverse city like Toronto, it can be difficult to find time with popular Black hair stylists in Toronto, which leaves customers searching elsewhere without much to go on.
"I've had to drive hours for a cut, but I had no idea what their work was like because they had no platform to list their reviews," he says. "I would then wait hours, and I thought, 'There has to be a better way to discover artists.'"
Fasegha similarly says he found it challenging to find a trusted barber when he first moved to Toronto from Calgary.
"I was literally stopping people on the street to ask them who cuts their hair," Fasegha says. "It's not because these people are not out there. There is no good way, yet, to connect with them."
Finding Black hair services can be even more challenging for potential clients who live outside of major cities.
Fasegha, for example, played hockey in the Prairies and frequently moved to various small towns to pursue the sport. He says he often had little luck finding a barber to cut his hair – which is why Fyyne is making sure to feature artists in cities and smaller towns across all three countries and streamline community-based, word-of-mouth recommendations and reviews.
Fyyne's arrival on the scene couldn't come at a better time for the beleaguered Canadian beauty industry.
Hairdressers and other beauty services were forced to close their doors for long stretches during the pandemic, with Statistics Canada estimating that hairstylists (mostly women) were more than three times more likely to have lost their jobs in 2020 than other occupations.
By providing them with the tools to be discovered, sustain and grow their clientele, Fyyne's co-founders say they're essentially providing business owners with an inexpensive platform to market themselves as COVID-19 restrictions are relaxed in many provinces.
"We're amplifying talented artists who would have otherwise remained undiscovered," Olubanjo says. "When you move to a new town as an artist, for example, you have to rebuild your customer base because you have to establish your credibility.
"Fyyne is solving that problem."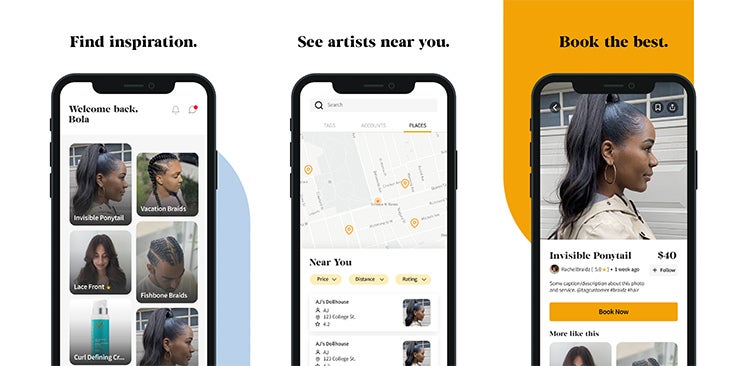 Users can scroll through Fyyne's app for the latest hair trends, find an artist who will best suit their needs and book an appointment with just a few clicks.
Fasegha and Olubanjo say they received considerable support through U of T's entrepreneurship community and accelerators.
Both are members of the recently launched Black Founders Network (BFN), which boasts more than 100 Black founders as members. Launched by U of T Scarborough alumnus Efosa Obano, BFN was created to support Black entrepreneurs at any stage of their career through access to resources and inspiration to launch their startups.
"Having community support, especially in the early stages of starting your business, is important and this is what the BFN is trying to do as well, to scale up these interactions and support Black entrepreneurs," Fasegha says.
Another key source of support for Fyyne was U of T Mississauga's ICUBE incubator, which employs a values-based approach to supporting and training entrepreneurs and served as a place for Fasegha and Olubanjo to test their ideas.
Both Fasegha and Olubanjo are no strangers to the business world.
Fasegha, who was named a Rhodes Scholar two years ago, started his first business at the age of 11, delivering flyers and franchising other paper routes, and later refurbished and sold yard and sports equipment. He is the founder of the Black Career Conference (BCC), which connects Black students, graduates, and entrepreneurs to industry professionals for an opportunity to connect with employers in various fields. He also co-founded Black Rotman Commerce (BRC), a student group whose mission is to support Black undergrads interested in business at the social, academic and professional levels.
"As a Rhodes Scholar, I'm interested in using entrepreneurship and innovation as a tool for economic and social development, particularly in Nigeria," Fasegha says. "Fyyne is the application of my theory: being able to build platforms to help people commercialize their skills and make a living."
Olubanjo, meanwhile, is the founder of Reeddi Inc., a clean energy startup company that brings affordable power to energy-poor communities. Rented for $0.50 a day, Reeddi's rechargeable and portable batteries are powered by solar energy and used by more than 600 households monthly in Nigeria. Thanks to Reeddi, Olubanjo was one of 15 finalists of Prince William's inaugural Earthshot Prize in 2021.
Whether working on Reeddi or Fyyne, the mission is the same for Olubanjo – he wants to lead the way to an equitable and inclusive future.
"I think it's the only way I can make a creative future that I want for myself, and it's the only way I can make positive change for people that I care about," he says.
As for Fyyne, the future looks bright.
Hair services is a $125-billion global industry – a figure that represents just one quarter of the global beauty market.
No surprise then that Fasegha and Olubanjo can see the potential in extending Fyyne's services beyond hair, noting that many customers similarly struggle to find services like makeup and eyebrows.
Says Fasegha, "At Fyyne, we are entirely focused on formalizing this informal industry of hair services, but I can also see our solution scale in a lot of different industries as well."